UPCOMING EVENTS: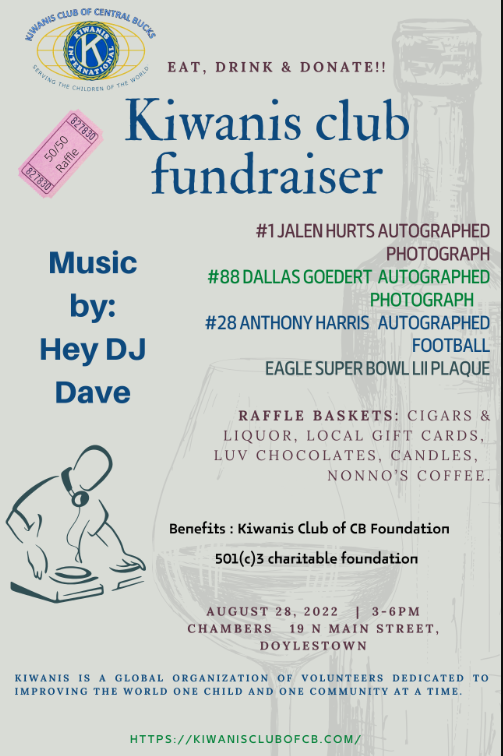 FUN-RAISER:
Chambers 19 Bistro & Bar
EAT – DRINK – DONATE!!
Sunday, August 28, 2022: 3-6 PM
Location: Chambers19 – N. Main Street, Doylestown
Please use the attached PDF to spread the word about our charitable fundraising event! Hope to see you and your friends there!
---
WELCOME!
Kiwanis Club of Central Bucks is composed of local citizens zealous about helping kids! Our local club looks out for our communities. We are generous with our time, creative with our ideas, and passionate about making a difference. Best part is we have fun along the way.
LEARN ABOUT OUR MISSION AND VISION…
---
SERVICE TO THE COMMUNITY:
In August of 2021 the Kiwanis Club of Central Bucks held a Back-to-School celebration for residents of Willow Knoll in Warrington. Over 150 backpacks stuffed with age-specific school supplies for students from Pre-School through 7th grade were distributed along with over 200 Football Shirts, 33 Pizzas, 300 Ice Cream Cones, Cookies, Fresh Fruit, Juice and Water for all. Live music and balloon creations added to the fun.
Kiwanis Club of Central Bucks would like to thank the following contributors:
Sal's Pizza & Steaks (1111 Easton Rd, Warrington, PA 18976)
Dairy Queen (1111 Easton Rd, Warrington, PA 18976)
Nonno's Italian Coffee Parlor (6 E State St, Doylestown, PA 18901)
Total Turf Experience
Covenant Church
Emma & Bobbi Cerutti Music
Acme
ShopRite
Meridian Bank
Firstrust Bank
The Kiwanis Club of Central Bucks welcomes people who have a passion for helping the children, families and communities of Central Bucks!
Please consider joining our enthusiastic group.
Backpack Giveaway August 2022